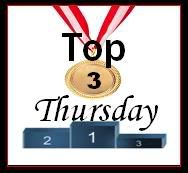 3.
Driving:
I don't know if it's a male thing (because
Christina
and
Kimberlee
aren't like this), or it's a learned thing (because
Bammy
is,
Adam
is, and
Julian
is working on it), but I absolutely
must
know where my car is at all times. Not that my wife is not a safe driver, but there's a difference between "a safe driver" and "I can hit a rock with my back tire after missing it with my front because I know,
in minute detail
, how my wheels track differently". I definitely fall into the latter category.

2. Sandals: I have a saying I learned from a priest many years ago: Socks are for Shoes … Feet are for Sandals. So far, Oregon's weather has defeated me less than a handful of times. I only wear shoes when bicycling (clipless pedals), paintballing, or slogging through thick mud (such as cutting down a Christmas Tree). Otherwise, it's Birks for me!

1. Money. OK … even I don't get this one. My bills in my money clip have to be faced, in order, folded neatly, lowest bills on the outside. I sometimes break this rule (like this morning when I bought a latte and my carpool was waiting outside impatiently), but I fix it as soon as I look at it again. It just irks me for some reason I don't get.


None of this has anything to do with survival … well …
maybe
the first … meh.
aka: goofdad