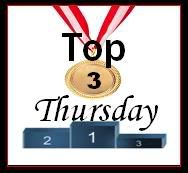 What are your Top 3 favorite things about being a parent?
So ... Yesterday was a BAD DAY (tm), but today is better, so I'm doing my Top Three Thursday on ... well ... Friday. Because yesterday was all about fostering, I'm going to twist the answers to specifically address being a foster parent.
3: Watching the pain fade. Watching him decide not to reach for a knife to cut himself, or to take his hurt and frustration out on the people around him in inappropriate ways. Watching him decide that this family is where he needs to be ... even when times are rough.
2: Watching the smiles show up. Watching him break into a simple, sweet smile at the drop of a hat, knowing that even if you had nothing to do with this particular good time, you helped set the attitude on life that allowed him to enjoy it.
1: One more mouthy teenager, without the intervening years! I LOVE my rebellious, smart assed, foul mouthed teenagers. I like that they'll tell me when I'm wrong, and argue their side even when they know they HAVE to lose (hey ... it's in my job description). I didn't have to change his diaper. I didn't have to deal with the terrible twos, or the whiny threes, or any of those other annoying middle years.
It's a painful process. It's different than having one of your own. But, if we can survive, the payoff is worth it!
aka: goofdad