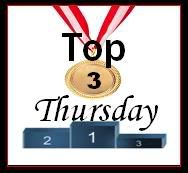 3: It leads into Summer: It's starting to get warmer, things like shorts and flip-flops are becoming more common. In our house, at least, Spring becomes like an early Summer. There's time at home (Spring Break), school is winding down ... It's a fun time all around.
2: The Sounds: From kids playing outside to birds tweeting (yes, tweeting) in the trees, I just love the sounds of spring.
1: Easter: Better than Christmas ... Easter is awesome. We celebrate baptisms and welcome new life. We sing for joy at the resurrection. It's new life out of nothing. It is the very embodiment of Spring!
It means we've survived another year!
aka: goofdad