To the tune of
Genesis: Throwing it all away
, it's time for: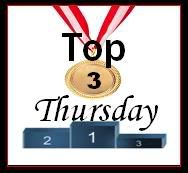 3. Old TV's: Last year at tax time (has it really been that long?), we bought a 32" plasma TV for our bedroom and a 42" plasma TV for downstairs. When we shut down our shop, we brought in 1 42" TV and 1 52" plasma TV, and 1 52" DLP. But, I still have those old CRT tubes ... because ... because ... just in case ... yeah.

2. Computer Carcasses: I think I have the carcass of every computer I've owned for 10 years or more in my garage. Some I've tried to give away AND THEY CAME BACK! I just need to drop kick them into a trailer and take them to be recycled! But I can never bring myself to actually DO that ...


1. My Old Washer/Dryer: We just spent a fortune on new machines, and I'll freely admit that I said NOT to take them away ... but why? I don't know. Nostalgia? Don't think so. I have a friend that wants the washer, leaks and all. I kept thinking maybe I'd keep the dryer ... but I know better. I really need to just get rid of it!
aka: goofdad