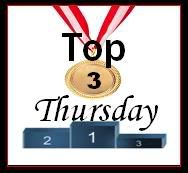 What are your Top 3 places to shop?
Somehow, I think I'm going to bring a distinctly different perspective to this question than the women responding over at the Confessions and (UN)Experienced sites ... but they asked, so here goes:
3.
Guitar Center:
OK ... mostly all I do here is window shop. I'd much rather buy
used
. I'd much rather buy from a
smaller
local business
. But, the sheer size of Guitar Center ... the fact that you can pull practically anything down off the wall and play it (tune it first, for the love of all that you hold dear!) is a joy. And ... Strings! Where else can you select from so many different types. This is the veritable Home Depot of music stores. The people are almost as equally useless, a lot of what they carry is worthless, the prices are rock bottom ... but where else can you find one-stop-shopping with a musical family?
2.
Jerry's Home Improvement Center
:
This place is the shit. They've got knowledgable, helpful, useful people combined with a real lumber yard combined with a HUGE hardware store ... It's like Home Depot combined with Lowes combined with ... well ... a lack of clueless employees. If it wasn't 45 minutes away, I'd go there every time I needed a 2x4 ...
1.
Powell's City of Books:
I'm an avid reader, and Powells is the best place to go for books ... hands down. I could get lost in there for ... well ... the rest of my life. I stopped by there last night to pick up one book ... spent $50 in about 15 minutes. When you read a novel a week or so, having a bookstore like this nearby is great. They even buy books back ... now if I can only convince myself to
let go
of my books ...
So ... like I said ... a different perspective. But I'm cool with that, and those moms reading will survive ;-)
aka: goofdad